André and Alice...."Together Again" in cinema, Vancouver, 2021.
So delighted to hear André & JSO will be in cinemas again! Our non-essential business operations have
resumed. The viruses in our province July 1 had a relatively low number of 43 cases, unfortunately it
spiked to 652 cases 2 days before the first showing. I also strained my back recently and had to visit the
acupuncturist Aug 28 instead of visiting the cinema.
I was annoyed and couldn't get to sleep. I'd been checking out the cinema's seating map and knew they
would automatically block the seats right next to my selection, but in my dream that night, two ladies were
sitting right next to me so I told them "You shouldn't be sitting here, these seats were blocked!"
Yeah...those who've heard of my Rieu-related dreams before, they're quite real. (p.s. I don't know the 2
faces)
I woke up in the morning and bought my ticket immediately for the Aug 29 showing. The auditorium has a
seat capacity of over 200 but with the social distancing restrictions and the blocked seats, I felt it's safe
enough to go with my mask on. The place was hardly filled, good for safety but bad for business.
Once I finished my beloved Sunday brunch, I packed my gear: my Charlie bear, 2 little cushions and a pack
of alcohol wipes. Mom didn't feel comfortable joining me this time, so off I go to the cinema....by
myself...with a walker, and with my dad in spirit!
As usual, it started off with some beautiful scenery and then there were all those familiar faces at the
"Together Again" party, with Pierré Rieu as the host, interviewing his dad aka Boss...André Rieu!
While clips from various countries were shown, I was already teary-eyed. Music has no border, it's
amazing how they had travelled the whole world and we fans made friends with one another, all because of
the same kind of music we love, or rather, because of how André packaged his music in the most enjoyable
way.
André loves interactions between him and his audience, he led the whole audience to Olé along with the
Platin Tenors' Granada. You know it's gonna be a mess when he does Snow Waltz, but we love watching
him do his "1,2,3 - up" thing with the audience! After Carmen "seduced" André in Habanera, beautiful
sounds of guitar were heard as Carla and Kimmy joined the red-hot woman in Manhã de Carnaval. I've
always loved this piece and if you didn't know, Carla has not only an amazing voice but she plays classical
guitar very well. In fact, both Carmen and Carla were very good in acting, they played Hansel and Gretel
on the André Rieu in Wonderland (Efteling) DVD.
I've heard The Lonely Shepherd by James Last when it's released 1977, and with the original Gheorghe
Zamfir playing his famous panflute in his very own Romania....it was breathtaking enough with that
spectacular setting, but the most emotional part for me, was that James Last passed away shortly after this
concert, as if André and Gheorghe played this piece together as a tribute to the composer. It was good to
see the Trio St. Petersburgh again, they played Poliushko Polie beautifully.
Alice's photo show on YouTube.
Those who have watched Kimmy at the South Africa concert would remember the whole audience was
crying, André too! A big group of children joined her in My African Dream. It's a very touching story of how
these talented children from the Hout Bay Music Project overcame all obstacles and made it to Maastricht
2010 to perform with André in his hometown. Please read the great article about the Hout Bay Music
Project on Harmony Parlor, written by our fellow fan Jennifer back in 2010.
The songs from My Fair Lady were played. Apparently, André has loved this popular musical for a long
time, as these songs were included in his very first hometown concert in 2005.
Here comes Pierré, André and the JSO members at the party again. Boy! Wish I had those nice legs like
Donij and Agnes.... but WHAT?? Pierré gave us only 10 minutes for the intermission, thought we always
had 15...oh well. The clock started clicking, got on my feet and stretched a little bit. After taking a couple of
pics of my Charlie bear with the big screen, I had five minutes for the washroom. A lady asked "Where did
you get that (tee) shirt?" Commercial time!!! As some of you would have known, I was wearing one of my
collections from the AR web shop. By the time I got back to my seat, the clock had 20s left! Whewww! Just
enough time to fix the little cushions for supporting my back. (Friendly reminder: When the pandemic is all
over and the cinemas are full again, we women need more time for the washroom please! Thanks, Pierré!)
So... we're back! Somewhere Over the Rainbow was our princess Mirusia in her beautiful white dress, but
then isn't she always beautiful? Of all the countries where André performed Blue Danube, I think it was
Mexico that had the most enthusiastic audience joining the dance, amazing they have so much passion for
music!! It's interesting to see how the younger generation of JSO have grown, they no longer need the little
bench stool and now just standing on the floor playing together with their proud dad, Marcel. It's always
nice to watch the fireworks on big screen. O Fortuna with the Platin Tenors and 4 sopranos (Anna, Linda,
Serena, Donij) certainly gave the audience goosebumps!! When I first saw Linda and Serena (the 2
Chinese sopranos Jing Li and Shao Lin) performing with André in his hometown concert, it was a huge nice
surprise for me!
It's Radetzky March!!! No moshpit, but you're welcome to clap at your seat, and LOOK! My parents and I
made our 2-second appearance again. I've seen it before in the World Tour promo clip, but it's the first time
I saw my own head bigger than life size! It must have been at least 10"x12" on the screen! André speaks
at least 6 languages, I couldn't understand a thing when he introduced The Rose, but that's okay, I got the
idea from the Mainau DVD. With an orange theme at the Coronation concert in Amsterdam, Opera
Potpourri including Hebrew Slaves and Viva España was played.
So.....classical music, huh!!! Funny to see the expressions of the audience who knew the first chords of the
next song but had that puzzled "seriously??" look on their face. Yep!! Heeeere comes Macarena with the
original Los Del Rio. The hit from 1993 still made everyone move, and you don't often see all the 8 girls
from choir singing and dancing at the front of the stage. Although all of them were fun, I still found Laura my
Charlie's Angel the "bounciest" one. Okay, calmed down a bit with Can't Help Falling in Love, but emotional
moments again! Some of you might recall from my 2017 Tacoma experience. I lost my dad that year so, he
didn't make it to see André in concert, I was in the mosh pit and as they played this song, I was in tears,
Laura and I were looking at each other...that would be my photographic memory forever.
And I thought that was it.... Nope! 1..., 2..., 3, 4, 5...! Here comes Lou Bega's Mambo No. 5 (A Little Bit of
Monica... I mean Mambo), and Adieu to follow. I don't remember how many times we sang "Adieu" together,
but this time I saw a face that's not seen for years. In the audience was Karl Moik, who created the program
"Musikantenstadl" (on German TV). Back in the 90's, he saw André on Dutch TV and got him to appear in
Germany, Austria and Switzerland, it was then that André became really successful in Germany. Sadly, Karl
passed away in 2015.
Everything has an end! It was an enjoyable and emotional event as I gathered my memories....as its name
goes.... together again. I chat with the 2 ladies I met earlier. I didn't ask for their permission and so won't
mention the names here, but nice chatting with them. They said I looked like someone who would have
been to a (live) concert before. I haven't been to as numerous concerts as many of the fans, but over the
years I did go to concerts in Toronto, Ottawa, New York (for Today Show), Maastricht, Tacoma, and of
course Vancouver. They didn't know André came to Vancouver before. Unlike other countries, say Mexico,
where all the concerts were sold out before they spent money on marketing. More advertising will be good
for future events in Vancouver. I just hope André won't abandon us and keep putting Vancouver on his tour
map. And as we got to the parking lot, I showed them my license plate "A RIEU". "You ARE a fan!" they
said, we all laughed and said goodbye! How fun to end the day!
Stay safe and healthy, everyone! Hope to see you in person soon!
Alice Leung
Vancouver,
Canada.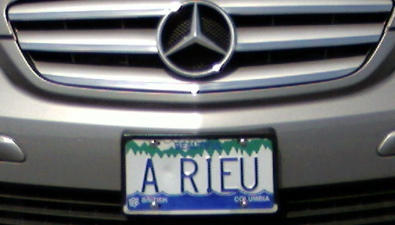 In 2020 and 2021 there were no concerts on the Vrijthof, due to the Corona lock down.
That is why André put together a 2021 film with the highlights of recent years.
Alice wrote a nice review.